This post is long overdue. 4 months overdue to be exact. 😀
You see, around the end of January 2017, Coursera.org updated their platform's user interface. It now appears that the only way to take a course for free is to sign up for a 7-day TRIAL of a series of courses (they call it Specialization). Almost all courses now belong to a Specialization.
At the time of this writing, Coursera calls the 100% free option "Audit". If you audit a course, you don't get a certificate of completion, but you DO get all the materials, videos, assignments, access to mentor-led forums, etc. So, everything but the certificate. If you just want the knowledge and don't care about the certificate, this option is definitely for you.
The new Coursera user interface does not make finding where to click for the "audit" (100% free) option straightforward. (They also changed the location of the audit link in the last several months, so it might be a moving target as well).
So, as of May, 2017, here is what you do. (I'll use my course as an example):
Go to the home page of the course you want to take. For example, HTML, CSS, and Javascript for Web Developers and click on the Pricing link on the left-hand side.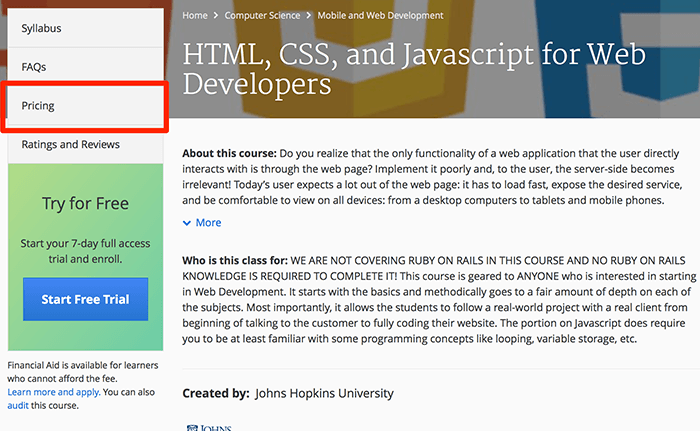 Once you do, the page will scroll to the pricing section where you can click the Audit button and get the entire course for FREE: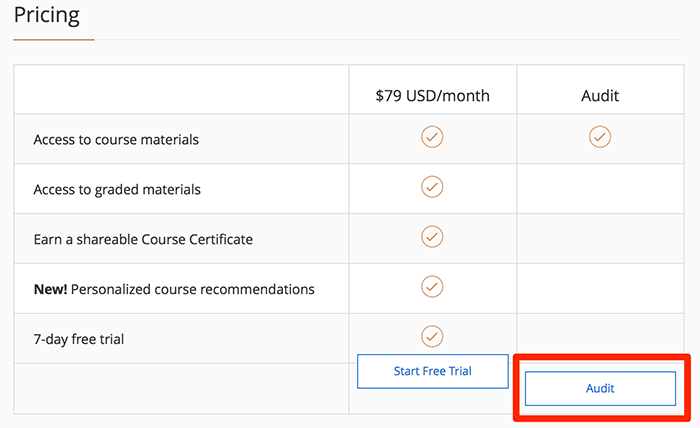 UPDATE:
Don't see the "Audit" button there? You either landed on a different version of the platform somehow or Coursera is changing between a couple of versions of their UI.
If you don't see the audit button anywhere, go ahead and click "Enroll". Then, you should see a dialog with the very small "audit" link at the bottom: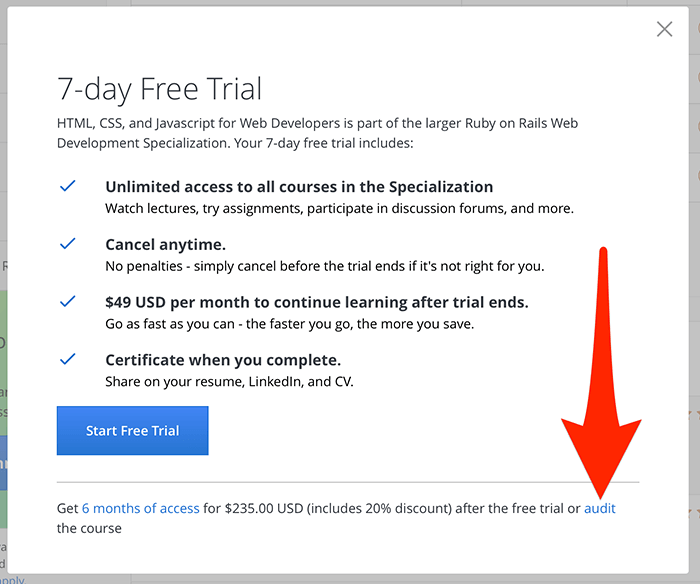 Just keep this in mind: Look for the "audit" button/link somewhere. It's there. Just a matter of finding it. 😊
That's it! Enjoy the courses! 👍
Oh, and if you are interested in front-end web development, check out my 2 courses that have been sitting on the list of the Top Rated Courses on Coursera for a very long time now:
HTML, CSS, and Javascript for Web Developers
Single Page Web Applications with AngularJS
All the best,
-Yaakov.
P.S. Leave a comment below (or hit ♡ Recommend) and let me know if you had trouble finding the 100% free option on Coursera and/or if this article was useful to you!